Markets, Mezcal & Mole in Oaxaca
with Stampworthy Travels
in Oaxaca City, Mexico
Want in on this? Receive a first invite to book before the trip is publicly announced…..
Stampworthy owes much of its inspiration to the indigenous culture of Oaxaca. The city is a sensory explosion - from the rainbow Otomi fabrics I've used for my furniture to the smokey mezcal I've guzzled - not to mention rich in a unique history not found anywhere else.
It's why I keep going back.
Earlier this year, the first Stampworthy group traveled to Oaxaca for a deep dive into the markets, the natural wonder Hierve el Agua, and artisan pueblos surrounding the city.
It sold out and went so well, we're doing it de nuevo. You are invited to join Stampworthy, (and food, textile, and culture enthusiasts from across the US and Mexico) to join a genuine Oaxacan experience.
Some of the highlights include:
a visit to a ceramicist's home studio in a neighboring town

a mezcal palenque visit

the stunning Hierve el Agua

a private tour of a female weaving co-op

an insider market crawl
What's included
Accommodation

Boutique accommodation with breakfast included

Airport Transfers

Airport transportation to and from Oaxaca City, MX (OAX)

Excursion to Hierve el Agua

Take a dip in the natural infinity pool wedged between mountains for stunning views

Oaxaca Market Crawl

Explore the aisles of the incredibly vibrant markets of Oaxaca

Welcome Dinner

Enjoy a welcome dinner and drinks with your fellow travelers

Ceramics Excursion

Trek to a neighboring town and visit an incredibly talented ceramicist's home studio where you'll be able to see the process and shop for one of a kind pieces

Teotitlan de Valle Textiles Excursion

Enjoy a private textile experience to a female weaving co-op where you'll see the dying and weaving process

Mezcal Tasting

Venture out to a palenque and see the process of mezcal production (and drink some, too) *lunch included
Not Included:
Airfare

Visa fees and services (for authoritative, up-to-date information please contact the Embassy or Consulate)

Mandatory travel insurance (proof of travel insurance purchase is required to participate)

Optional add-on activities

Additional meals and costs not previously mentioned
Day 1: Arrival and Welcome Dinner
Meals Included: Dinner
Arrive in Oaxaca, MX (OAX)
In order to take advantage of the complimentary airport transfer, please ensure your arrival is between 10am-5pm.
Once you're settled, we'll enjoy a welcome dinner to get the group acquainted.
Meals Included: Breakfast + Light Snacks
The natural infinity pool, Hierve el Agua, awaits you. Enjoy incredible mountain views as you bathe in the natural spring.
Day 3: Market Crawls & Meat Halls
Meals Included: Breakfast + Lunch
After your breakfast, we take to the the streets of Oaxaca to begin our market crawl - ending at the famous meat hall at Mercado 20 de Noviembre for lunch.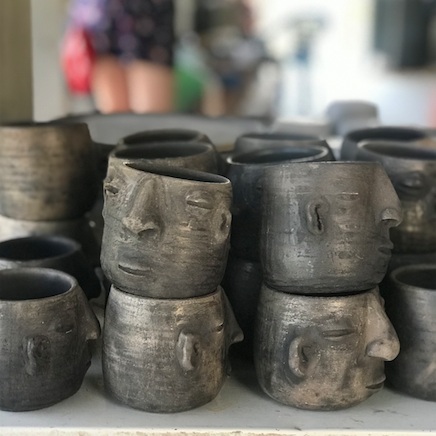 Meals Included: Breakfast + Lunch
Visit one of the best ceramicists in the Oaxacan region in his private home studio. Yes, you can buy his one-of-a-kind pieces to bring home.
Visit a palenque (a local mezcal distillery) to see the mezcal production process while sipping your fair share. And then some.
Day 5: Textile Lover's Dream
Meals Included: Breakfast & Lunch
Venture out to a neighboring town and meet a female co-op for a dying and weaving demonstration in this world-class textile city. You'll see the intricate steps and details in the creation process of incredible rugs and other woven textiles.
Meals Included: Breakfast
Get in your last minute tlyaudas and textile purchases. You'll be driven to Oaxaca City Airport (OAX).